It was a rainy day on Veenendaal, yet the really heavy downpour had not yet drenched the superb fields of De Groene Velden sports park and there was almost no wind to speak of, so the conditions were pretty good after all. Israel were perceived as favorites in this second stage pool game, but it was Finland who scored the first goal after 9 minutes of play, and this honor went to Simo Soini, with an assist by Ronda Saarikivi. Wait a second, isn't Ronda a feminine first name? It is indeed, and one has to wonder why this category is called "men's" these days instead of "open", considering that the Finnish roster features no less than... four girls, some of whom actually played in U20w before but wanted to play in their age category, albeit with boys – this is Ultimate after all.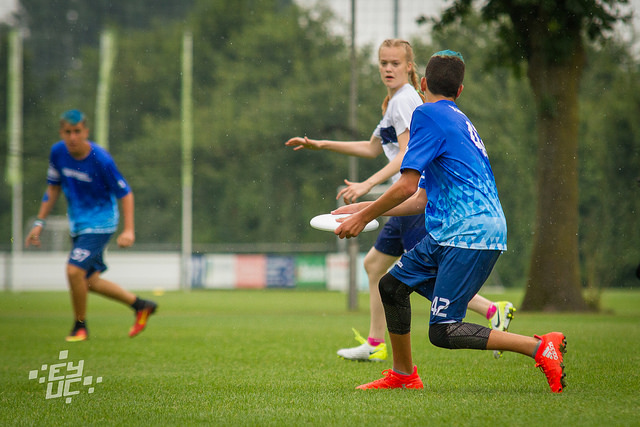 Ronda Saarikivi (FIN) keeping an eye on Liran Kandil (ISR). Photo by Klára Matejková.
Israel did not need another 9 minutes to equalize: two and a half were enough for Liran Kandil to find Arbel Dayan, who went on to score two more goals in a series of four that put Israel firmly in the driver's seat. This team also includes relatively young players – in fact, several members of the Israel U20 team would qualify for U17 as well – but they are nevertheless a bit older and consequently taller than their opponents. To be sure, this size deficit is a major factor in this and most games of this Finnish team, but that never prevents them from giving their best each time. Still, they also have tall players, George Kuvaja is one and Valtteri Mönkö managed to reach him with a long arched pass that nobody was in a position to take away from him: ISR 4 – 3 FIN, and the Finnish coach decided to take a time out for some tactical explanations. This inexperienced team has learned a lot in the course of this tournament so far, he told us later, each game bringing tons of valuable lessons.
Finland got a chance to level the score at 4 – 4, but instead Israel managed to get a turnover at the edge of their own endzone and patiently built a neat point. Experience started to speak and they reached half time with a 3-goal advantage: ISR 6 – 3 FIN. On the seventh goal, Omri Zarecki, on the right-hand side of the field, noticed that Yair Reingewirtz was not guarded at all in the endzone and that was 7 for Israel. Curiously enough, Finland replicated exactly the same sequence on their next O, but the pass was too fast to be caught.
The next point saw a number of turnovers due to inaccurate passes and drops, maybe a consequence of having small rosters that force some players to be on the field more often than they reasonably should. Israel seemed to be implementing a zone defense, but the lack of wind meant that hammers were an easy solution, if a bit risky because of the rain. Finland scored their fourth goal with a long, well-adjusted pass from Lassi Cederlöf to V. Mönkö, after which Israel took the time to build another nice point which was duly rewarded by an 8th goal when Kandil reached Dayan again with the third of six assists in this game for him.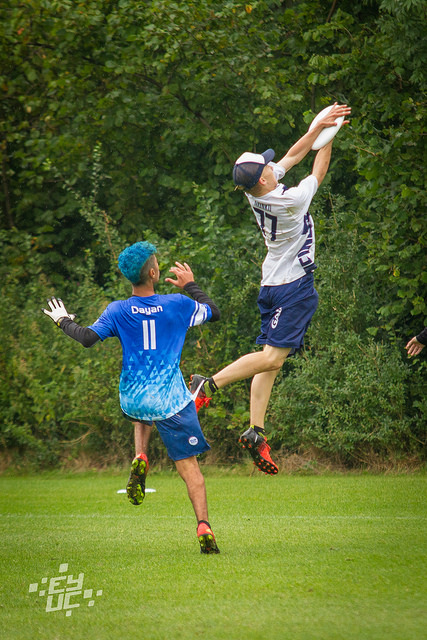 Valtteri Mönkö scoring the 4th for Finland as Arbel Dayan of Israel can only watch. Photo by Klára Matejková.
Finland players never lost motivation, as examplified by an authoritative D from Saarikivi in her own endzone. Unfortunately the disc was lost almost immediately and Israel did the patient job again, with a nice finishing touch in the form of a swift give'n'go between Itay Peretz and Shaked Maron (for those of our readers who are less familiar with Ultimate, that's what they call a "one-two" in football: Peretz received the disc close to the endzone, made a very short pass to Maron who immediately gave the disc back while his team-mate was jumping over the line). Finland's fifth goal arrived at last (Teemu Virtanen from Roope Niskanen), drawing cheers from a thin but enthusiastic Finnish crowd: "Viva Suomi!!" (Was it really "viva"? Anyway, "Suomi" is of course "Finland" in… eeer, well, Suomi); and it was followed by a second, a bit lucky as the Israeli defender almost caught the disc but only upset it and his opponent still managed to get it as best he could. 10-6 and Finland got an unexpected gift when the pull went completely astray, as the disc was thrown from the right of the field... to the right, away from the field, lost in the distance, to the astonishment of the thrower himself. Well, these things happen... Finland however were unable to use this opportunity, faced as they were with a tenacious defense from their Israeli opponents, who wrestled the disc back from them and immediately threw a huck that flew to the right place... but found no one there. In fact, Finland would not be able to score another goal from that moment on, although they did try hard in the rain (which had stopped but resumed toward the end), while Israel got in another four. ISR 14 – FIN 6, a "normal" result for a well-spirited game, one of those games that don't get livestreamed but nevertheless give these championships all their meaning.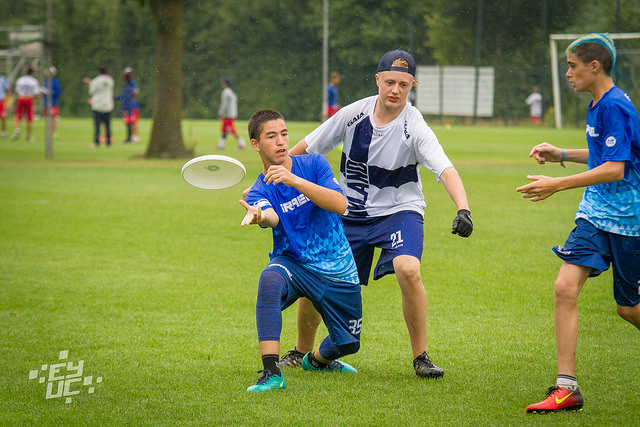 Roope Niskanen (FIN), Tomer Nudel (35) and Ran Ftecha (ISR). Photo by Klára Matejková.
Israel coaches Yonatan Magid and Ariel Movsowitz: "This game went well for us, as was more or less expected, and we are proud that we delivered, but we are even prouder of the other game of the day, although it was a defeat, against Switzerland. We received many compliments about the game – high spirit, good quality of play. The cap was at 13-2, and that's when our guys put in a bit more effort and scored three points in a row. They lost 13-5 ultimately, but they felt very proud of themselves and thats's very important. Generally speaking all our teams tend to get high spirit scores and that's something we're proud of."
Finland coaches Leevi Cederlöf, Aarni Nagy, and Oskari Murto: "We managed to get an 'early lead' by scoring the first goal, but of course our weakness is that many of our players are younger and thus shorter. Israelis are both more physical and more experienced, but we have come a long way over the last few days, learning enormously and building self-confidence as a team. It's our first ever U17 team, we have very young players, including the youngest of the tournament, but he is a relentless player, a powerhouse of this team, always ready to fight, never giving up and the other members of the team also have that spirit: no matter what the score is, they always give their best."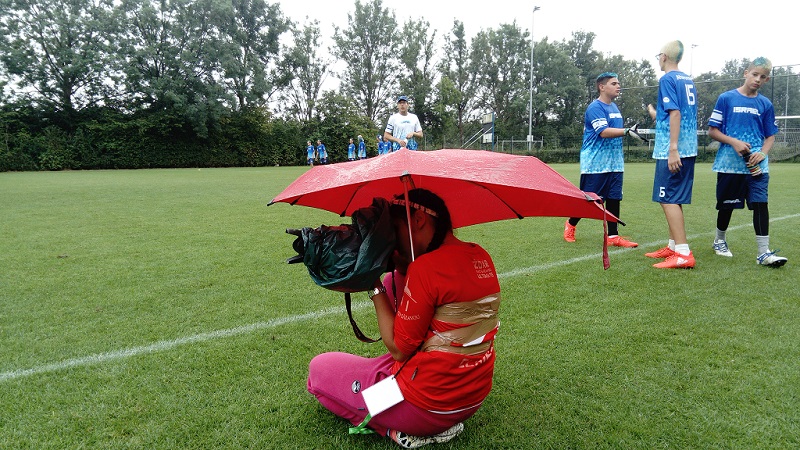 Klára Matejková at work in the rain. That's called dedication, folks! You can follow her work and see more pictures at Klára Matejková Photography on Facebook, as well as on Flickr.