Latvia hadn't sent a team to international youth Ultimate championships since Lecco 2014. They entered one in the m20 division this year, which had a rather good start, giving a hard time to Ireland and beating Israel 15-11.
Against Ireland, your reporter joined the game as play resumed after half-time and was somewhat surprised to see the score: LAT 7 - 8 IRL! Ireland, after all, finished sixth at Worlds in Poland last year, remember? Well, they apparently did remember at that point, and the reaction was swift: 7 - 9, then 7 - 10. Motivation was perceptibly huge on both sides, but in spite of all their efforts, Latvia were unable to turn the tide from that moment on: the necessary defensive adjustments had been made and Ireland would not concede another goal in the second half. Final score: LAT 7 - IRL 15.
Having already beaten Switzerland in the morning, Ireland currently lead their pool.
Ireland coach: "Latvia were better than we thought they would be, and we didn't find the right defense until the half-time, but then it worked. N°99 is especially difficult to deal with, as he is very tall and jumps very high too."
Latvia coach: "We came in strong, but they managed to get their game together and find the right defense in the second half, plus we started to make some unforced errors. Our next game should be interesting, they tend to guard man-to-man and we prefer that over the zone defense [laughs]"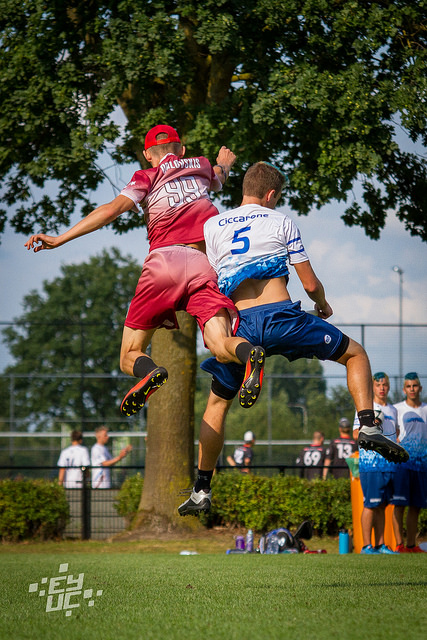 Arvīds Žanis "Miša" Orlovskis (LAT) and Jordan Ciccarone (ISR) - photo by Klára Matejková
See more photos on Klára Matejková photography (even more, in full resolution, on her Flickr page). Also make sure you pay a visit to Maruša Lešnik photography and check out video coverage at The Ultimate Life of John Kofi.