The game took place on field 12 at 5:30, at the end of a gorgeous summer afternoon, with the usual – but light – breeze you always have to expect in the Netherlands. As usual, there were quite a few German supporters. Slovenia had their own too, many of of them Danish boys - that's the beauty of youth tournaments. Before the game, both teams sung their national anthem.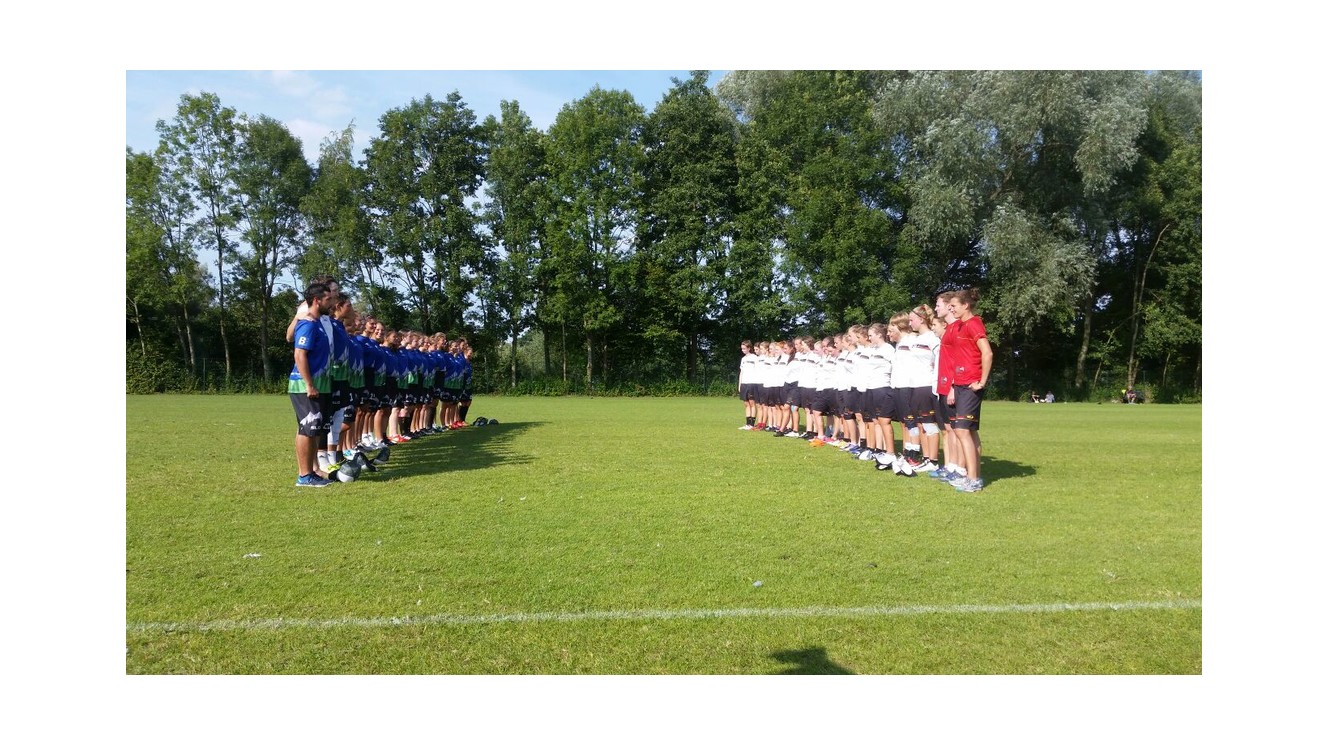 Slovenia and Germany singing their national anthems. Photo by Kevin de Jong
Germany got off to a good start thanks to a first goal by Lena Fiedler, with an assist from Nadine Ehmann. Slovenia equalised rather quickly though, when Aurora Lešnik found Luna Petrovič in the endzone – first assist for Lešnik, but certainly not the last. Germany then proceeded to build a 2-goal lead, but Slovenia - no doubt cheered up by their boisterous supporters chanting "Let's go, de-fense, let's go!" - did not let things slip out of control and reduced the score: 3-2. At that point, Pauline Keiling found the inspiration to throw a lovely arched pass from midfield that duly reached Franziska Meyer - the GUN had fired again and restored their lead.
Slovenia was doing an excellent job of patiently building attacks, only to see the very last pass failing to become an assist more often than not. Germany seized the opportunity to increase their lead. 2 – 5, something had to be done, and was. Lešnik finally managed to find two successive team mates in the German enzone, respectively Sabina Rožac and Sanja Kopše. This took the score to 4-5 and Germany started to become a tad nervous, uncharacteristically dropping a disc here or missing a pass there. They pulled themselves together though, and managed to reach half-time with a three-goal lead: 5-8.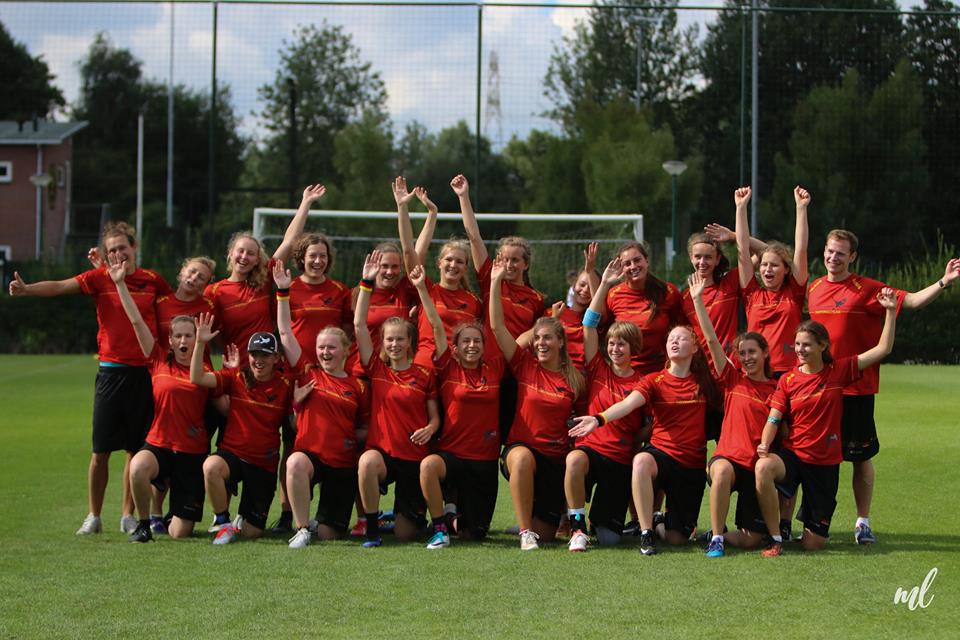 G-U-N -- GUN!!! Photo by Maruša Lešnik
However, Slovenia came back with tons of enthusiasm, scoring two goals to breathe in the German eagle's neck again. It's hard to score more than two in a row to that GUN team, however, as Meyer showed by scoring the ninth goal. That's when things got a little crazy… First it was Lešnik who threw a huck that landed in the hands of Lara Miklič. This alone was enough to fire up the sidelines, but Germany lost the disc on the next offense and this time it was Petrovič who hucked, and Miklič again ran, ran… dived… and managed to catch the disc as it was about to touch the grass! 9-9!! Who would have expected this?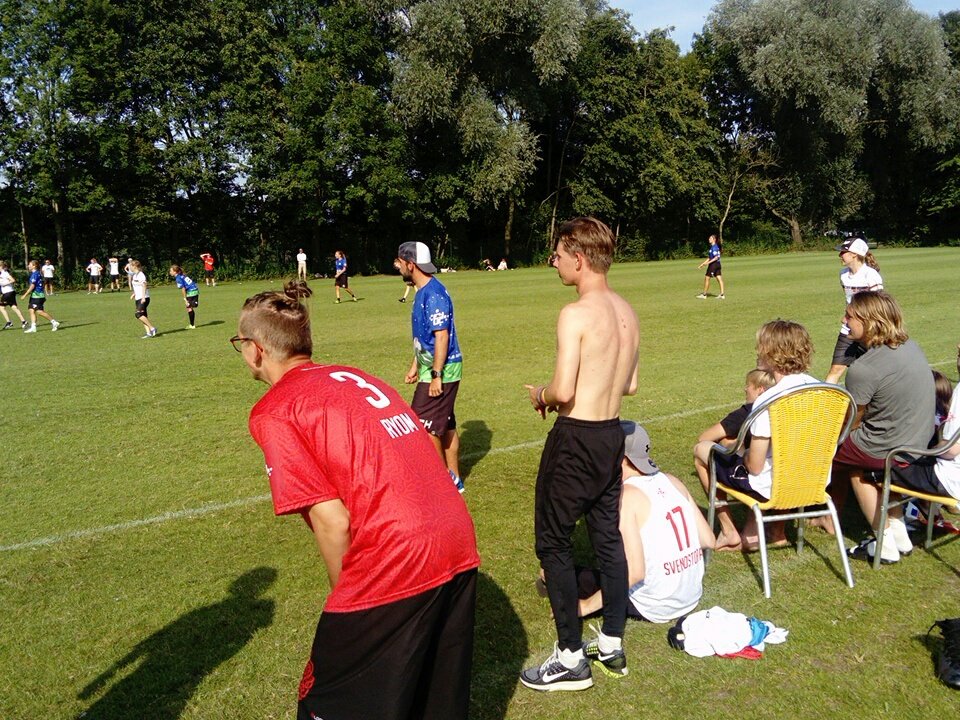 You need all the support you can get... Danish boys rooting for Slovenians girls. Photo by F-X Priour
Germany did not panic, though, but instead showed mental strength to calmly play their game, score one goal, then another, then another… in fact five in a row, including a delightful catch from the tip of the fingers by Lucie Wehdemeier (assist Malwine Lühder) for the 13th. And although Miklič, for her fifth goal of the game, did manage to catch Lešnik's 7th assist, the last word went to Germany's Rebecca Reimann: final score SLO 10 – 15 GER. A game to be proud of for Slovenia, and another win for the unbeaten GUN, one that required mental strength.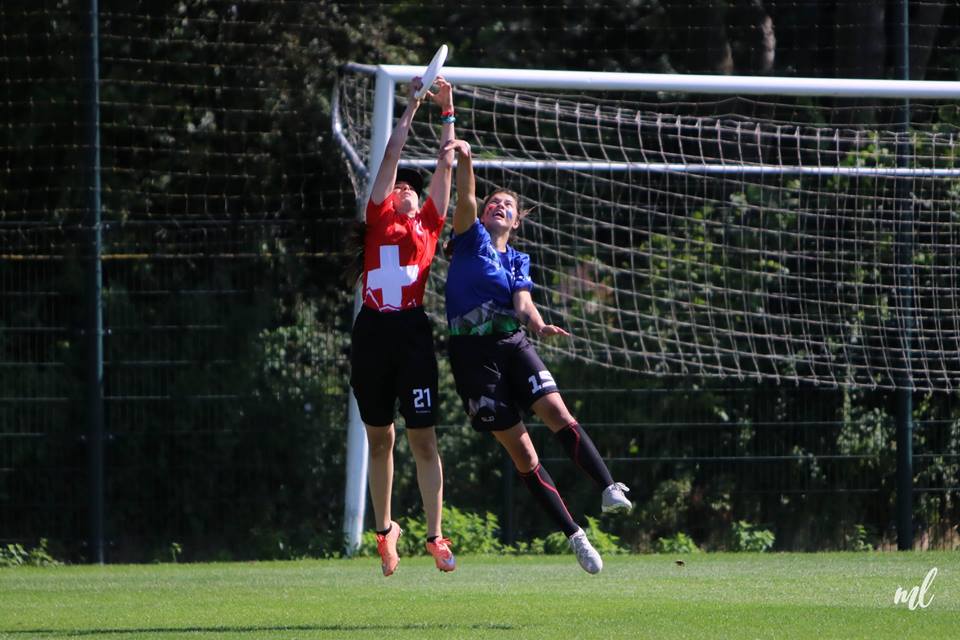 Aurora Lešnik battling it out with Alexandra Tutuian of Switzerland in a previous game. Photo Maruša Lešnik (yes, our dear photographer is Slovenian, but no, she is not related to Aurora)
Slovenia coach: "I think this is our best game so far. We've been improving over the tournament, and reaching 9-9 again the Germans… nobody else achieved that. I didn't realize it at the time, to be honest I wasn't looking at the score, but we can be proud. Very intense game. I'm looking forward to the rest of the tournament now."
Germany coach: "The Slovenians started very, very intensely, with a very tough defense. We weren't expecting that, so we needed to adjust during the first half, and even have a few words with them at half time. We're really proud of our players for upping their game to face this challenge."