That said, competition is also about winning. Both hosts Netherlands and their Czech opponents came with high expectations, so this quarter final was going to be a tight affair. And it was. It was also a noisy one in the nice sunny Veenendaal middle afternoon on field 10, an artificial grass pitch that is usually home to the games of VV De Merino's, one of the local football clubs. Noisy in the best possible way of course, because of the vocal crowd of supporters: the Dutch, obviously, but the Czechs as well -- these guys brought four teams here, remember? And they are delivering, by the way: at the time of writing, three of these are still having a shot at the title, a feat surpassed only by France and matched by Germany alone.
This was a rematch of the game played on day 2, by the way, which had been won 15-11 by the Czechs. They had the offense, meaning that the Dutch pulled, which was not an easy task as there was a significant amount of headwind, and important factor in many games that day. Now if you want to cheer for a Dutch player pulling, here's how - you don't need to sing, just pronounce each syllable in a LOUD and distinct way:
"One - two - four - eight / Who do we appreciate?
Not the king, not the queen / But the Dutch Frisbee team!"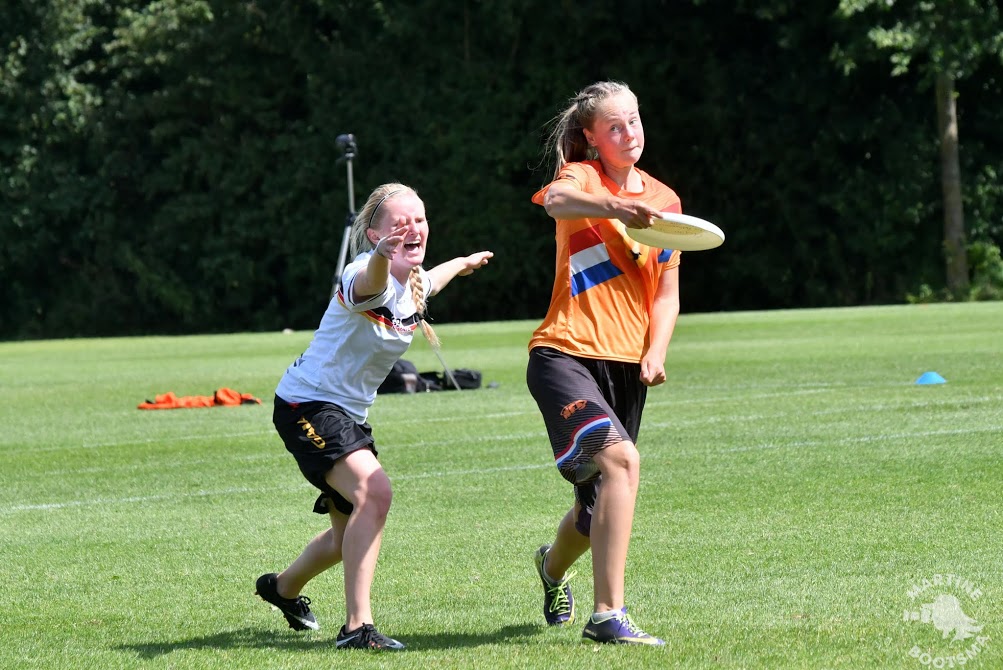 Jette Bardoel. Photo by Martine Bootsma
With those wind conditions, the pull was a bit tricky. It fell a tad short and the Czechs approached the endzone fast, but missed a pass. The Dutch then started to play a patient short game which enabled them to bring the disc all the way up the field, only to miss the last catch, and there was no waste of time from their counterparts: two (downwind) passes were enough to reach Terezie Dubská, who was able to offer Alžběta Kimáková the first assist of this game. The Netherlands retaliated swiftly and it was Aylin Spijkers who scored, with an assist from Jette Bardoel, a ubiquitous player who would be involved in eight of the ten Dutch goals in that game. Both teams went on to score one after the other, never more than two in a row so that they merely traded the lead but the gap never exceeded one point. The fourth Dutch goal was a very nice catch by Kaat van Beek with her arms outstretched and just her toes still in the endzone, but in the endzone they were and that's how the nice, firm pass from Nienke Muskee became an assist.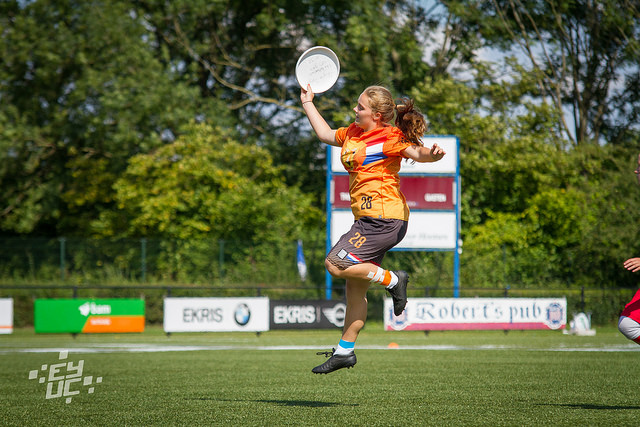 After playing a nice D, Jennique Buursen [above] picked up the disc and gave to Gabriela Millward, who in turn very sensibly sent it in an empty space in the endzone, but in spite of her best efforts and, indeed, a layout in the artificial grass, her team mate arrived a split second after the disc had touched the ground. The Czechs called a timeout at 4-4 immediately after scoring by Jana Nejezchlebová, well served by Karolína Petříčková, the tallest player on the field it seems. Their fifth goal followed quickly thereafter, but… wait, is that a call? Well, it seems that Dubská was juuust toeing the line when she caught Kateřina Kopecká's pass and the Dutch elegantly conceded. Good spirit there. They equalized three minutes later anyway, with a niiiice arched pass by Jette Bardoel from the middle of the field to… ooops, missed catch but Amelia Mance was there to save the day when her team mate dropped the disc, that was 5-5 and she was warmly congratulated by the entire team. The Dutch then regained the lead to reach half time with some peace of mind. Sort of.
Half time
The Czechs started the second half with gusto and "bookends" by Kimáková, who scored a goal with an assist from Barbora Kilianová (six assists in this game), but the thing is that Kimáková had made the initial D herself, thus being at the beginning AND conclusion of the action, like bookends that hold your books upright on the shelf – this is sometimes called "double happiness", and achieving it feels good, very good. So good that it gave the Czechs a superb momentum that earned them three in a row and an 8-6 lead. Of course the Dutch did not sit idle: they reacted with a nice give'n'go across almost the entire field: Bardoel to Buursen and back to Bardoel again for the goal after a 50-meter sprint. Wow.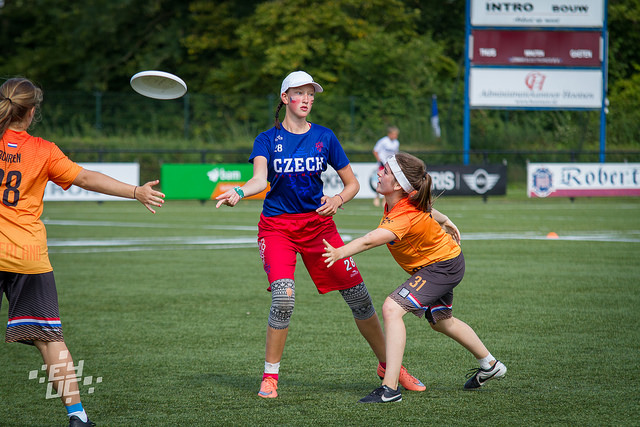 Karolína Petříčková (CZE) and Aylin Spijker (NED)
The Czechs however were able to nurture their advantage by systematically scoring a goal after the Dutch did. Bardoel repeated the previous pattern, this time with Muskee, bringing the score back to 9-8, only to see Nejezchlebová find Kimáková (five goals in this game) and restore the 2-point lead with a nice, patient goal in the headwind. 70 minutes had elapsed at that point in what was to be an 80-mn game: time was beginning to run out somehow and what's the usual answer when you start to feel this kind of pressure? Hucks, more often than not, especially downwind. The problem with Dutch hucks at this stage was that, well adjusted though they were, they rarely found someone, or were difficult to catch. Catching a disc may seem easy when you watch the AUDL highlights or even the top U20 men in this event, but the truth is that these guys are highly skilled: catching is a tricky affair, especially when you're surrounded by opponents and there is some wind blowing. All four goals scored by the Netherlands in the second half were scored by Bardoel, two of them with assists from Millward: an excellent connection between those two.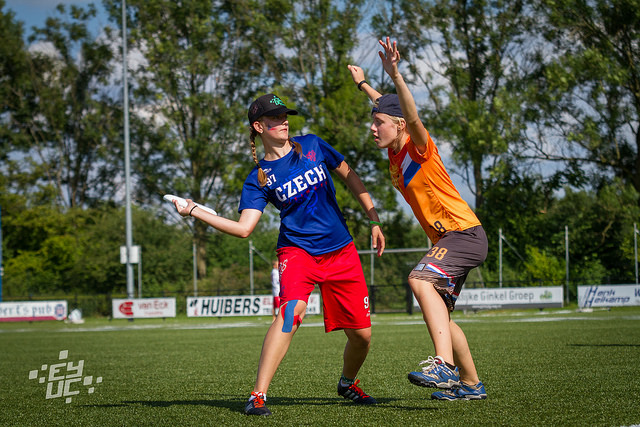 Terezie Dubská (CZE) and Amber Hansma (NED)
The end of the game was a bit strange, as the players had failed to hear that it was game to 13 and thought that it was over after the Czechs had scored their 12th by Pavla Tvrzická. It was an emotional affair on the sidelines, especially from Czechs players and spectators. To be sure, the Dutch never gave up, fought to the very end, and resorted back to a short game which duly allowed them to score the 10th goal that kept their hopes alive, until a final huck by Kilianová hovered above the endzone, hovered, hovered, and was caught by… Kimáková again. The Czechs erupted with joy: semi-finals, top 4, what a superb performance!!
Words from the sidelines
Czech coach Jaromír Jáchym: "It was a hard, tough game. We didn't expect to play so long. We had some trouble in the beginning with our defense. We already had a tough game against them in the pools, but they lost against other teams that we have beaten, so we thought it would be easier. The Dutch were really better in the air, that's why we had problems with their offense: it was difficult for us to catch discs, they were skying us. There were quite a lot of lucky catches on both sides. They hucked a lot because they are better than us at that, but we managed to switch to a defense they were not comfortable with. In the end we won but it was a really tight game. I'm really happy, now we're aiming for a medal, hopefully. Now we're playing Germany in the semi-final. Germany and Austria are clearly more difficult to beat, but if we won this game, why not?"
Netherlands coach Maud "Spuit 11" Ottenheijm: "We already played them before and did put up a good fight in this match, we felt that the momentum had shifted, we were way closer. We really knew that our game had improved, as we are more a team now than we were before, so I'm glad that we had the opportunity to put up such a good show. I'm glad we managed to play with all our players. They were technically better, so they won, but it was a great game. I'm glad we fought, the girls are disappointed obviously right now but I'm rather proud of what we achieved."
Photos by Klára Matejková, unless otherwise mentioned.