In the men's U20 division, hosts Netherlands had the difficult task of facing both GB and France on the same day, in a pool that also includes Slovakia. The day began pretty well for the Oranje, who actually carved a 7-5 lead, but the bronze medallists of last year's Worlds in Wroclaw reacted by scoring three goals in row, reaching half-time ahead by the slightest of margins. Both teams then traded punches until 13-14 when G-B managed to deliver the fatal blow. NED 13 – 15 GBR, a great start for an exciting group! Meanwhile, against Slovakia, France decided to apply immediate pressure, which earned them a Callahan on their second goal, thanks to the alertness of Aymeric Matenet. Never taking anything for granted, France remained relentless and did not allow a single goal, although Slovakia came close to scoring on several occasions: FRA 15 – 0 SVK. The bad news for France is that Eliott Planchin, one of their most experienced players, suffered a knee injury that will keep him out for the rest of the tournament. We wish him – and the other injured players – a prompt recovery. A few hours later, Netherlands and France met on lovely pitch 9 in the glorious afternoon light...
The Dutch had the offence and Joris Steneker duly scored the first goal with an assist from Benjamin Oort, but France immediately set the record straight, before Netherlands scored two in a row thanks to a very nice D. The reaction was quick though, as France again resorted to high pressure and implemented a zone defense, coming back to 3-2 and then 3-3 when Nicolas Pigeon in turn produced an authoritative D just at the edge of the Dutch endzone. In spite of a missed pull, France even took the lead for the first time, a gap immediately closed by Netherlands who then went on to concede three goals, not quite finding the solution to the French zone defense riddle. From 4 - 4 to 4 - 7, France were apparently beginning to find their stride when Michael Stenvers, thanks to an assist by Benjamin Oort again, reduced the gap, drawing heartfelt cheers from the home crowd. France scored on their following O and 5 - 8 was the score at half-time.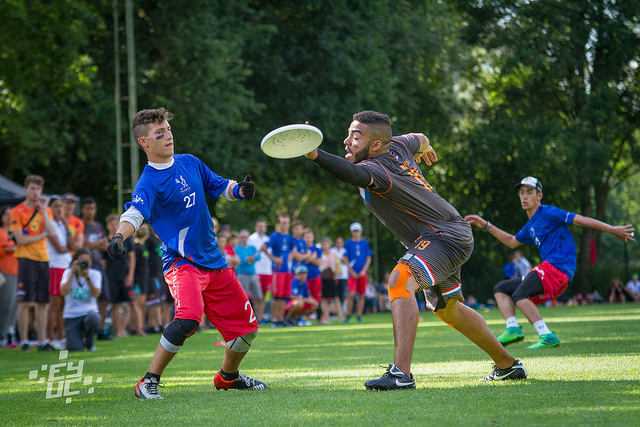 Axel Roger (FRA) - Edward Jibulu (NED) photo by Klára Matejková
Was it the wind that was beginning to abate, or was it impatience? Anyway, both teams engaged in a flurry of hucks that mostly generated a bunch of turnovers, but France got the last laugh and Thiven Viel scored the ninth goal. The Oranje, understanding the problem, shortened their game and Edward Jibulu duly got a sixth one as a result, but on the following O, Paul Benvegnen's hammer found Nicolas Pigeon: 6 - 10. Netherlands dropped their next disc on an unforced error (not too many of these in this game though), but they were nevertheless rewarded by a goal following an excellent D in the endzone followed by a series of quick and accurate passes. France's next O was quite a long and patient build-up that failed just at the edge of the endzone, which was quickly exploited in the form of a powerful huck… intercepted by Corentin Gréau (pictured).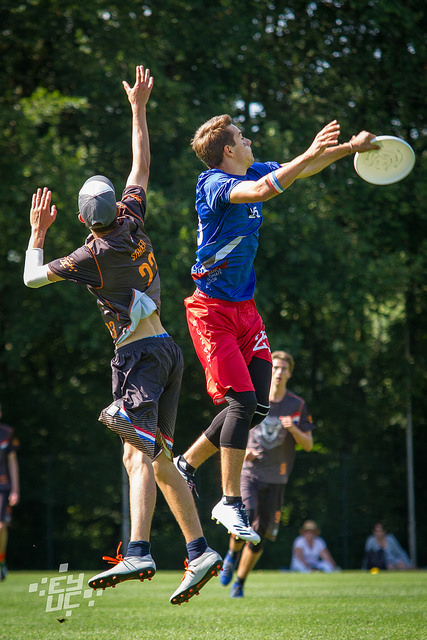 Joris Steneker (NED) - Corentin Gréau (FRA) photo by Klára Matejková
Netherlands then managed to bash the disc in their endzone again, only to concede a turnover on a missed pass, and this time it was 7 - 11. The next turnover came rather quickly when Félix Priour-Martin dived for the D, and Nicolas Pigeon again found himself at the receiving end of a big hammer, this time from Aymeric Matenet. That was 7 - 12 and then 7 -13, France's lead increasing slowly but surely, always keeping their opponents at a distance with their well-oiled zone defense. The Dutch were subsequently unable to do better than scoring goals on their offense discs, but the absence of turnovers meant that the final score was NED 9 – FRA 15.
France lead the group with two wins and will be facing GB today, while both GB and the Netherlands will also play against Slovakia.
A few words from the sidelines:

Jean-Marc Rocca
(France coach): "They were unsettled by our zone defense, which was the key to this game. That's a good first day for us, but a lot remains to be done."
Leontine Sonneveldt (Netherlands coach): "Their zone defense hurt us indeed. On the whole, in spite of the two defeats, it's an encouraging first day. The team performed well against two top opponents, and the boys were strong mentally, that's important. You learn a lot from such games."
See more photos on Klára Matejková photography (even more, in full resolution, on her Flickr page). Also make sure you pay a visit to Maruša Lešnik photography and check out video coverage at The Ultimate Life of John Kofi.
Stay tuned for more news on this eventful day very soon!